Instagram for Business | How to Post to Instagram Stories
Are you using Instagram Stories? If not you should be. Instagram Stories is the best way to reach your audience in 2019. So if you aren't currently posting to your stories NOW is the time to start.
Instagram Stories is a informal & creative way to reach your followers. It's also a great tool to engage with your audience, drive people to your website and make sales.
Below with will guide you through posting your 1st Instagram Story…AND at the end we will give your some insider tips to increase your engagement!
NOW pull out your phone and open up the Instagram App.
When you are on the home page or feed. Find the camera in the top left corner or just swipe right from the home screen.
From this screen you can take a photo by tapping the white button on the bottom center of the screen OR take a video by holding down the button to record. On the very bottom you have the choice of making a type post (text), live video, boomerang, superzoom, focus, rewind or hands-free video.
Stories post options:
Type Post: This option allows you to post text to your IG story without including a photo.
Live Video: The Live feature allows you to go "live" on your Instagram which means people can watch and interact with you in real time. They can send you messages that you can answer as you are speaking with them. This is great to share events, launches, or share new information about your business.
Boomerang: When you are in boomerang mode once you click the button you phone will take a series of quick photos and turn them into a video to show the motion.
Superzoom: This takes a video zooming in on the center of the camera focus.
Focus: This option will focus on the person or item closest to the camera and blur the background.
Rewind: This will play your videos in reverse.
Hands-free: This is a very handy feature. Instead of taking video by holding down the center button the whole time you can start the video it will record until you stop the video.
Other Buttons:
Photo: This will take you to your most recent photos.

Thunderbolt: This will show your flash options.

Arrows: This will swap the camera to the front facing camera or rear facing camera on your phone.

Smiley Face: This will open the different camera filters.
Want to use a photo you have previously taken? Just swipe up anywhere on the screen. You can then search through any photo or video in your albumn. *If you select a photo or video taken over 24 hours ago you will get a date sticker on the photo - this can be removed by holding your finger down on it and dragging it to the trash that pops up at the bottom.
Choose the photo you would like to share from your camera roll OR take new photo.
Tap anywhere on the screen to bring up the text tool or tap the Aa on the top right corner. Play with the text size, color, and font. Tag a friend or teammate by using "@" and their account (i.e. @liveadaycreative). Use "#" to also share using a hashtag. *Instagram has also made stories pop up with location tags or hashtags; so other people will see you content if you use location tags and hashtags.
*BONUS TIP: you can use up to 10 hashtags on an Instagram Story & make them small enough to hide in the post.
Want to add some stickers, location tags, or emojis? Tap the sticker button on the top and this will pull up you different sticker options, swipe up to scroll through more options.
Want to draw an arrow or draw attention to a particular part of the picture click the pen symbol on the top. You can choose from different types of pens, change the thickness, and color. If you messup down worry there is an eraser tool also.
Swipe left or right on the photo to change the color filters.
When your post is ready tap your story at the bottom left of the screen or send to if you only want certain people to get it.

How to upload multiple photos or videos at one time
To upload multiple photos from your album click the "select multiple" option on the top right after step 3. This will allow you to choose multiple photos in any order. I like using this to show different photos from a photoshoot or project.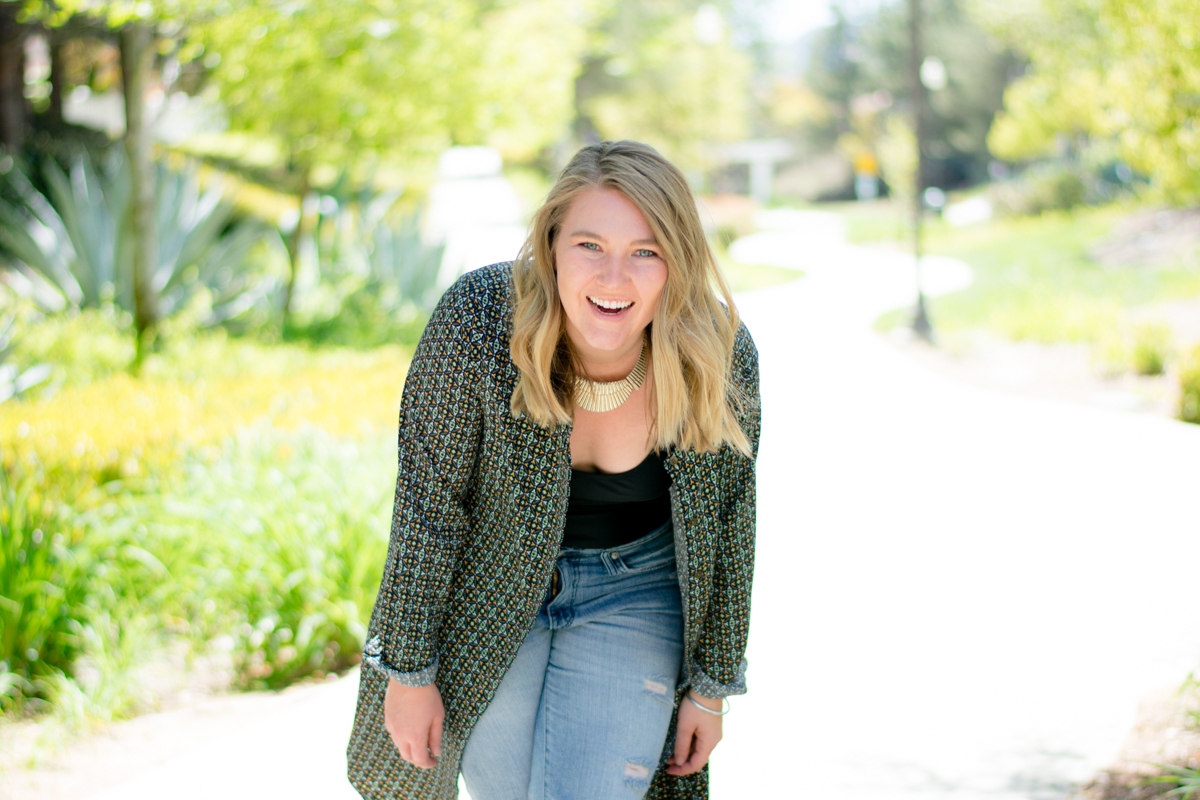 I'm Amanda Livaudais
I'm a photographer and online branding connoisseur who loves to geek out on new marketing strategies, but my obsession capturing the perfect moments between poses that are genuine memories.
A Southern California photographer, marketer, and brand designer – my perfect day consists of sitting on the couch with a cup of coffee between my two pups, computer on my lap.